Cityscape of Perth City from Kings Park at sunrise.
Perth rowing enthusiasts meet daily on the Canning River before sunrise.
Early morning bike riders at Kings Park.
In true Perth tradition ….. a hot morning coffee
(Wild Poppy Cafe, Fremantle)
Robyn Shapiro,
(part) owner of Wild Poppy Cafe, Fremantle,
Front of house Manager and Barista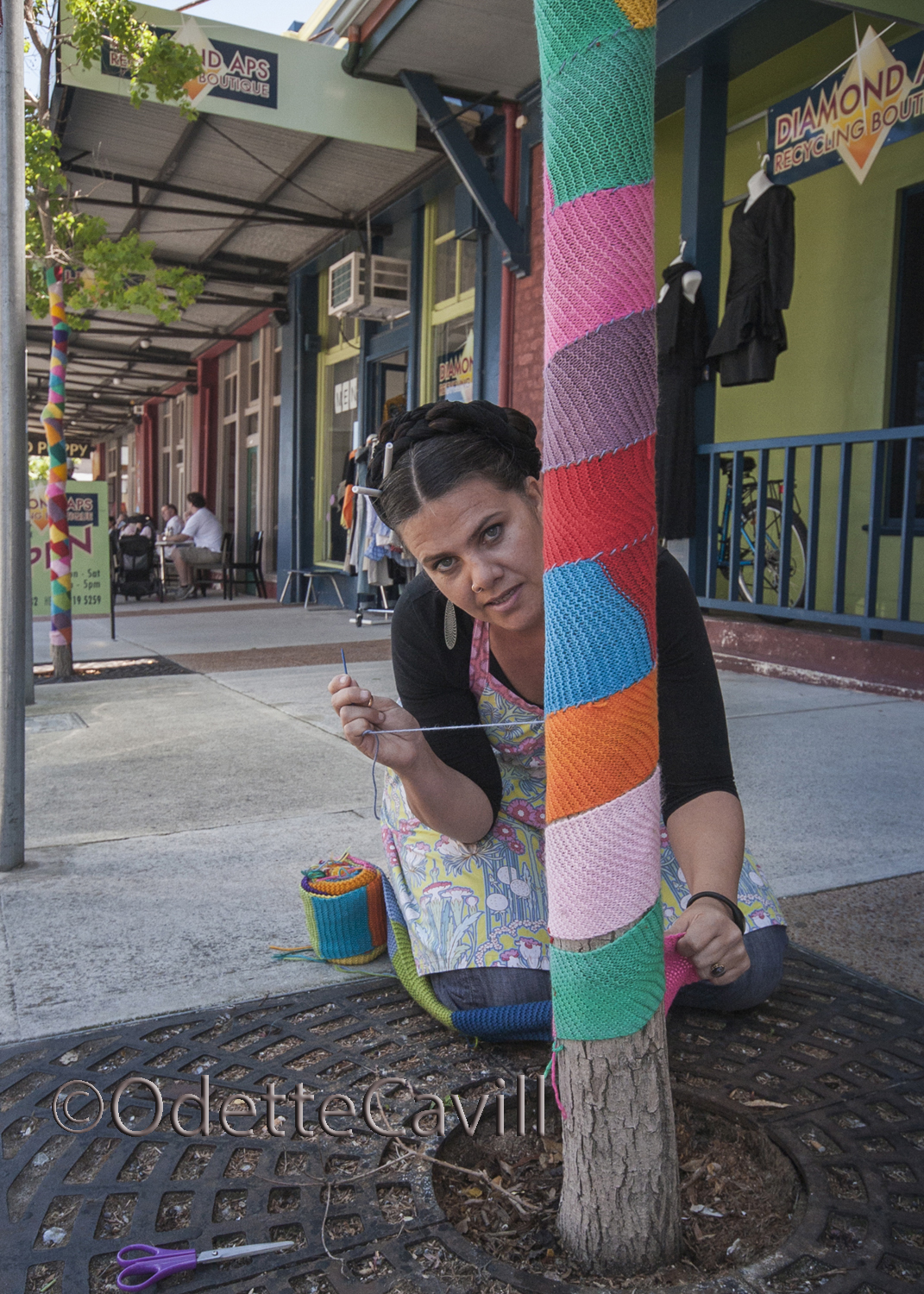 Local Cafe Owner
and artist
Robyn Shapiro
sews her knitting to the trees on
Wray Avenue
Cottesloe Beach
Hosting the 'Havaianas Australia Day Thong Competition'
Jump on the free 'Cat' bus around Freo, and if you're lucky you'll find local artists "doing their thing".
Fremantle has always been known for it's amazing quirky artists and here Mark is painting part of his story-telling mural on the side of the 'East West' Retail Warehouse on South Terrace, South Fremantle.
It has taken months to plan and paint and is over 40 meters long and 5 meters high and not yet finished !
This wall is now a Fremantle Icon which may not last - a must to see.
Bathers Beach, Fremantle at sunset.
Fremantle Festival Street Parade
The Street Parade is the finale of seventeen days of art, culture and celebration.
It's an old Fremantle tradition to close the annual Fremantle Festival with the street parade and up to 45 floats representing schools, local groups and communities, dance and circus groups samba drumming, police pipe bands, and floats expressing religion and even politics make their way through the heart of the city. For any keen photographers, this is a definite must-see. Events last well into the night with dancing and music in the streets.
Football Fever!
AFL Grand Final in Fremantle.
Local Fremantle streets and businesses close for the afternoon as thousands of 'Fremantle Dockers' fans line the streets to watch the game on the Big Screen.
High Street, Fremantle has become a retail magnet for up and coming fashion designers, and interesting second-hand shops.
A late night walk around the main High Street in Fremantle brings wonderful visual opportunities.
Gazing into a dimly lit window of a second-hand book shop highlights one of the 'old' Fremantle businesses, one which has lasted over 25 years.
Only a half hour drive from Perth is Araluen Botanical Garden, abundant with Tulips in early Spring.
An afternoon walk through Araluen Botanical Gardens. Early Spring and the tulips are in full flower.
A spectacular view from Kings Park, looking over South Perth and beyond, where the Swan River and Canning River meet.
This 750 year old Boab Tree was transported from the remote Kimberly region in North West Australia to Kings Park, Perth in 2006 where it was re-planted. It's not looking too healthy at the moment, with the trunk pitted with big holes on the western side (shadow)
Since 1986 the Leeuwin Ocean Adventure Foundation has provided exciting and life-changing sailing programmes for 14 to 25 year olds.
Both Perth City and Fremantle City provide a free 'Cat' Bus which circles regularly, from early morning till late evening, enabling both visitors, city dwellers and fringe dwellers to travel within the boundaries easily without cars.
Sailing up to Cicerello's famous Fish Cafe in the Fremantle Fishing Boat Harbour,
The Fremantle Ferris Wheel can be seen in the distance.
The new WA Maritime Museum is located on the Western end of Victoria Quay sitting at the entry of the Swan River.
Sunset, South Beach, Fremantle, West Australia
2014, Perth Highlights
A small, ever-changing essay covering a few highlights in Perth, West Australia.